Your in for an eye opener the first corner you dive into
...It's the understeer that gets you in low speed autoslalom's ...not the high speed corner lift-throttle-oversteer that caused all the celebrities to wrap them around telephone poles in the 80's. But if I remember right your coming from an AWD car so maybe you'll have some practice with going straight when you want turn?
But, you can negate this disadvantage by driving harder into the corner. Huh you say? Well let me explain...
We are usually taught in performance driving schools to do all your braking straight line going into a corner while late apexing it, release the brake, turn in, and hopefully being 100% on the throttle at the apex depending on how much you can roll onto the throttle without understeering (fwd, awd) or oversteering (rwd). But in my rear engine 911's one can enter the corner braking much later than a regular car because the weight transfer allows all four wheels to take equal weight slowing you down faster, while also loading up the front end enough too grip the turn better while you continue braking into the corner (trailbraking). The added benefit of trailbraking is that you can induce some slip angles for a better turn in (I'm not talking Starsky and Hutch angles but a nice 10%ish drift) and then get on the throttle even earlier than some cars are able too, steering with your gas foot more than the steering wheel (which is probably good as you will be raising one front wheel off the ground) to rocket out of the corner. Immensely satisfying when you nail it right!
However...
Corners in autoslalom are not always connected by straights and you find yourself doing some weird lines (driving not coke) to make the car dance the way you want when one corner leads into another. So then you are over into the marbles, wagging that heavy butt all over when that lift throttle oversteer comes at the most in-opportune time, and can quickly get completely crossed up. Left right slaloms over and over down the parking lot too can get tricky too with all that weight transfer stuff going on ...But you've got four runs to figure out how to make that pendulum of weight sitting in your rear bumper go the way you want through a corner, and when you nail it you get that immense satisfaction that no VSC/ESP/ESC/DSC/DSTC/TCS controlled car can give (and why our old air-cooled 911's keep going up in value ...well that and the fact that those with disposable income at later stages in life are now buying cars they lusted after in their youth. Hmmm maybe time to start buying Skylines to sell to the generation Y bunch?)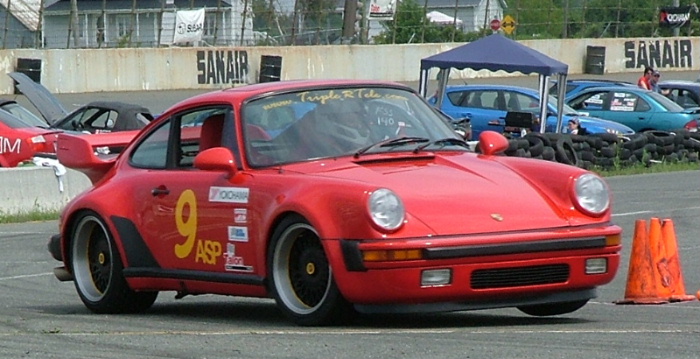 Stacy
PS also lots of good info here:
http://forums.pelicanparts.com/porsche- ... ck-racing/
...I'm A/SP911